by Caroline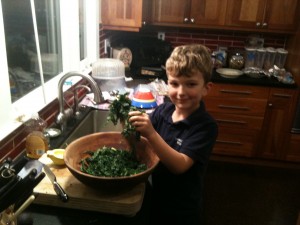 We make raw kale salad a lot, but over Christmas my sister made a version that was a revelation to me: raw, shredded kale massaged with avocado, then tossed with avocado chunks, slivered almonds and lemon juice. Yum. I ate it almost every day (an antidote to my daily handful of Christmas cookies?) and the whole family loved it. Yesterday we made it at home for the first time, and Eli wanted in on the action. I supervised at the beginning, but by the end he had taken over the process and, as you can see from the photo, was well pleased with himself (I should have supervised a little more closely; look at that knife!)
There are various versions of this recipe online, but I had a boy eager to make salad (that bears repeating: a five year old boy eager to make salad) so we just improvised, and it tasted great. Here's how it went:
1 bunch of kale
1 lemon
2 avocados
1 handful (approximately 1/4 cup) toasted, slivered almonds
olive oil, salt, and pepper to taste
Strip the kale leaves from their stems, wash them, and then slice them into ribbons. Dump them into a large salad bowl. Slice one avocado onto the kale and mash it into the leaves with your hands. There is no kitchen implement that can do this for you, just dig in with your bare hands or enlist a willing helper to massage the kale leaves until they are all nicely coated with avocado. Juice the lemon over the leaves, and then add the other avocado, chopped into chunks. Drizzle with olive oil, sprinkle with almonds, season with a bit of salt and pepper, and serve.