We had a long, happy visit back east with my family which involved  a blizzard, the birth of my brother's twins, 6 trips to NY, Christmas Eve, Christmas Day, several great restaurants–and almost no cooking on my part–my mother deserves all of the credit for that.  I cooked the feast of the 3 1/2 fishes on Christmas Eve and we had plenty of Sonny's Bagels and more Sloppy Joes than I care to disclose (and which I have just discovered I have never written about…)
We also had a series of really lovely moments not so much created by but punctuated with food. So in the spirit of looking back to some of  thing things that made us happy and forward to a year of continuing to nurture our family in all ways, I offer below a few highlights about food, and love.
Lunch at Lincoln Center before NYC Ballet Nutcracker
Dinner at Cafe Fiorello after the ballet included handmade pasta, a tin ceiling, and chocolate mousse with whipped cream served tableside out of large silver buckets. Need I say more?
nightly cocktails and kidtinis in front of the tree. This is a Phantasm, created at the Slanted Door, SF. You'll have to kill me to get the recipe, but it involves falernum and lemon grass infused vodka.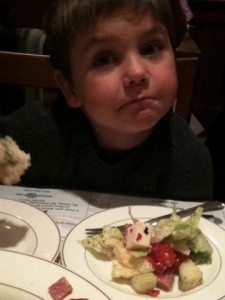 The Tony Salad and pizza at the local Reservoir. Then don't take credit cards and there's no liquor license.
Christmas Eve:  Stringing carrots on a wire for, you know, the reindeer.Yes, they flew by the attic window and ate them all.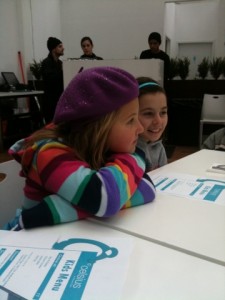 As the blizzard began, we found ourselves in Bryant Park, NYC,with my sister and her 2 girls, at Celsius for lunch–a glass enclosed restaurant where we ate, drank, and watched the snow pour down around us. One of the most beautiful ,  fun meals I've ever had.
Crazy kids in the even more crazy Dylan's Candy Store.  Times Square on New Year's Eve has nothing on this place after Christmas.
Post-blizzard bliss.