Even though I'm late to the party, my kids are not. They were both born in SF, and have adopted the Giants with what I think is uncommon fervor, but really is not. Their enthusiasm has infected me, and when I called my sister and my mother for "urgent parenting advice"–that is, take them or not?–both said "ABSOLUTELY!"  So I did. Really, how often does your home team win the World Series for the first time in 50+ years AND get a ticker tape parade? Um. Never? Once in a lifetime?  In this way, historicity won out.  I consulted several friends who helped me plan a route and an escape plan in case things went south and we headed off.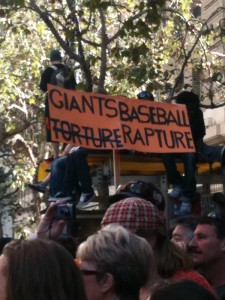 Historically speaking, when I'm about to head off to a day-long excursion, on my own, with kids, into throngs of crowds, I pack a lot of food. Too much, really.   Heading out to the SF Giants Victory parade was no exception. I knew we had to leave early (7 AM), take a train, a bus, survey the gathering crowd, find a reasonable spot where we wouldn't be crushed, and then wait. For 3 hours.   I figured we'd need lots of food while we waited (did I mention the 3 hours???) so this is what I packed to eat in my son's large red backpack:
Pretzel logs
3 apple
1 persimmon
2 turkey sandwiches
1 pb & J
6 or 8 Snickers & Reese's peanut butter cups (thank you Halloween!)
4 Granola bars
1 liter water
What was amazing was this:  the early start meant we beat all the crowds, got on an empty train, easily hopped a bus, and got front row seats.  As in, this was our view of Willie Mays: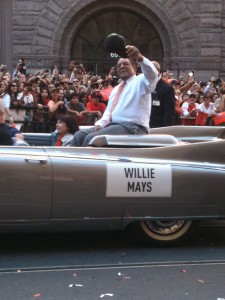 But what was nearly as amazing as that was this: I didn't need everything I packed.  What was most important for that long wait:
sketch book
crayons
American  girl activity books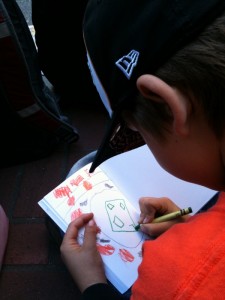 In fact, even though they got a little thirsty, I didn't let them drink anything because there were no bathrooms nearby and I wasn't about to give up our spots for a bathroom break.  I let them have very small sips, but not much.
The excitement and the crowd carried us through the hours and soon there was this:
And these guys…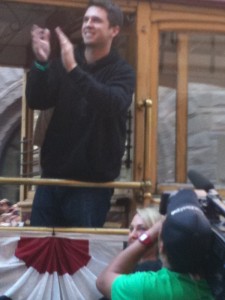 The food only came in handy on the crowded train ride back, but even then we needed only:
the sandwiches
3 candy bars
2 apples
1 persimmon
books +crayons
The lesson: the kids are bigger now. They are more portable.  Food no longer needs to be an activity. Give them a good breakfast, and one snack at something like this is probably enough. I can lighten my load. Go out in the world. Celebrate!