by Lisa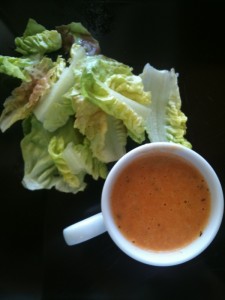 For musical accompaniment, first click here. (You can browse their site later,too!)
This is my husband's favorite soup, and before yesterday, I had never made it. It's not just any tomato soup, but The Tomato Soup, served under a puff pastry at Bistro Jeanty. It's divine. It's what tomatoes must dream of becoming.  It has an impossible-to-achieve-at-home texture.  It's loaded with cream and butter.
How it ended up, sans puff pastry and some of the fats, is due entirely to the weather. I had been saving a great bowlful of early girls for gazpacho, which we have been eating by the bowlful here, but then the weather cooled. It's still beautiful and sunny here, but there's that hint of fall in the air, so we just didn't feel like cold soup.  In other words, tomatoes are still pouring into the markets, but it's getting late in the season for all those bruschettas and salsas and capreses and Tomato Surprises…so, the soup came to me as inspiration sometimes does, and now I have new standard fall/winter dish.
We ate the soup as a first course around our kitchen counter island while I fried the homemade salmon cakes, but it would go really well with Caroline's roasted grain salad, which she happened to make on the same day I made this.  How's that for coordinating our families and giving you a great 2 course vegetarian meal?
The original recipe is here.  My adapted version follows, written in steps, in the spirit of Pete Wells  brilliant anti-mise en place jeremiad–because this is how I cook, too.  I substituted milk for half of the cream, left out the extra butter at the end. I also left out the white pepper because I didn't have it.  I also have a lousy food mill, so it was not quite as smooth and silky and generally perfect as it might be, but it's still a pretty amazing recipe.
Cream of Tomato Soup
Serves 6
½ cup butter unsalted
½ lb. Yellow onions
6 garlic cloves
1 Bay leaf
½ Tbl. Whole black peppercorns
1 tsp. dried thyme leaves
1/4 cup tomato paste
2 ½ ib. fresh, ripe tomatoes
1 cup water (no more-use only if tomatoes are not ripe and juicy)
2 cups heavy cream
2 cups milk (your choice of fat content)
salt to taste
½ tsp. Ground white pepper
Special tools:  food mill, or blender/immersion blender +strainer
Lay all your ingredients on your workspace, or within reachable distance.
Melt the ½ cup butter in a large stockpot over medium-low heat.
While the butter is melting, slice the onions and crush the garlic with the blade of your chef's knife. Peel garlic but you can keep the cloves in the crushed state.
Add sliced onions, crushed garlic, thyme, bay leaf and peppercorns; cover and cook for about 5 minutes. Do not let the onions color.
Add tomato paste and lightly "toast" the tomato paste to cook out the raw flavor the add tomatoes (3-4 minutes).
Add water if needed.
Simmer over low heat for 30-40 minutes, until the tomatoes and onions are very soft and broken down.
Puree by passing through a food mill.  If you don' t have a food mill, you may use a blender in batches or a handheld immersion blender until finished, the strain.
Return the soup o the pot.
Add the cream, salt, white pepper.
Add extra butter, to taste. ( I didn't.)
Bring soup to a simmer the remove from heat.