by Caroline
When my friend Ursula moved to Portugal for a year and said she had room for us all to come stay, I started looking into airfares. When she started posting pictures of Portuguese pastry on her website, I booked the tickets. She wrote me about her favorite pastry shop in Lisbon, and said we could stop in on our way home from the airport.
Now I happen to think that all food is stories, but the story behind Pasteis de Belem is a particularly good one, involving nuns and a secret recipe over two hundred years old.
There was no way I was missing a trip to this bakery. But our flight arrived too late in the afternoon to go out for what's really a morning pastry snack, and besides, there was a medieval fair to attend. We kept the pastry shop high on the to-do list and went to bed.
Not many hours later, Ben appeared at the side of my bed. Before I could even think to curse the jet lag which I assumed had woken him, his face startled me wide awake. He was grimacing in pain, sweaty, crying. He clutched his left side and moaned as he crawled in next to me. I thought at first that he'd gotten sick from his candy apple dinner the night before, but he insisted it wasn't his stomach, but a spot lower down, on the left. I flashed to countless readings of Madeleine and Tony googled "appendicitis," which confirmed everything we were witnessing. I woke Ursula, and her husband drove us into Lisbon, quiet in the pre-dawn hours, to visit the pediatric ER.
And this is where the story suddenly improves. Not just because the walls of the ER were painted with a space theme that delighted my child, and not because the wonderful doctor addressed herself, in perfect English, directly to Ben as she examined him carefully, but because somehow his symptoms all disappeared. Two hours later, instead of sitting by a hospital bed while Ben recovered from an appendectomy, we were sitting in the just-opened, nearly empty Pasteis de Belem, enjoying a sleepy but amazingly delicious breakfast: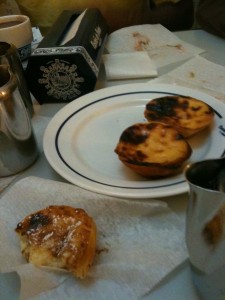 The pastry is like a cross between phyllo and pie crust, incredibly light, buttery and flakey, while the egg custard filling is light and not very sweet; the pasteis are served with shakers of cinnamon and powdered sugar (if you get the pastry to go, you're given perfect little packets of the toppings). They look a little burned on top from being run under a broiler, which just caramelizes the sugar in the filling and gives the pastry topping an unexpected extra crunch. We ate plates full at the bakery, took more home to the rest of the family, and then resumed our vacation, just so grateful that we could.