by Caroline
There's nothing like a road trip to create some powerful family food memories. It's been about forty years, but everyone in my family still remembers our road trip from Tokyo to the mountain village of Nojiri and our stop at a roadside stand for snacks. My oldest brother picked out what he thought was a fudgsicle; he innocently unwrapped the package, eagerly took a bite, and quickly discovered it was, in fact, frozen bean paste. None of us has ever looked at a fudgsicle with quite the same pure anticipation again.
Happily, my family's recent road trip didn't create any such searing memories. The place we stay in Yosemite doesn't have great food, but we know that and know how to deal with it: we pack a lot of snacks. We pack everything we need for 3 days of breakfasts and lunches and we pick our way carefully through the over-priced and mediocre dinner menu, knowing that the experience of sledding and skating and swimming twice a day among some of the world's most beautiful mountains can almost make up for the lack of a nice dinner (a decent glass of wine helps the adults; coloring pages and more dessert than usual help the kids, who were served, at our low point, an astonishing bowl of spaghetti that was somehow both burned and mushy).
In the past, we made our Yosemite trip with another family. The first year, without any advance food planning, we discovered we'd brought terrifically complimentary groceries: we had crackers, they had cheese; we had dried fruit, they had nuts; we had carrots, they had hummus. Last year, we coordinated to take full advantage of the small hotel fridges; I think they even brought a toaster oven. This year, with our friends now living in India, we went on our own and I had to be more strategic than usual, but you can see how I managed to get the fridge stuffed (that's a banana bread wrapped in the foil, and a big lentil/Israeli couscous salad in the plastic tub underneath it). I kept the freezer full of powerballs and frozen berries.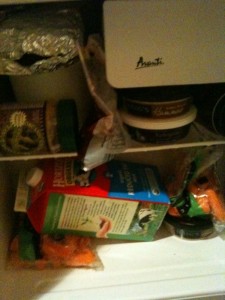 When it was time to leave the mountains for the second half of our road trip, we still had plenty of sandwich fixings, salad, dried fruit and crackers to get us through the miles, but still, it's a road trip! We stopped for fries at In n' Out and waved hello to the beach.