by Caroline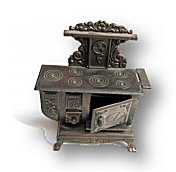 We alternate Thanksgivings either back east with my family, or in a beach rental here in California. For years, we shared the beach rental with my late mother-in-law, who would scout the rental kitchen ahead of time and pack boxes with good knives, mixing bowls, and her big white KitchenAid mixer, not to mention all the food. After she died, the kitchen scouting fell to me, and if I couldn't check out the kitchen in advance, I channeled Nancy and presumed it was inadequate, packing my own rolling pin, pie pans and other baking dishes. I measured out the dry ingredients for breakfast pancakes, muffins, and pie fillings into Ziploc bags so that I didn't have to bring many cookbooks (or count on finding measuring cups), carefully counted eggs (4 for pancakes, 3 for one pie, 2 for another – ah, better just bring two dozen) and made sure we had plenty of parsley and lemons for Tony's stuffing.
But Thanksgiving back east is, logistically, easy. It's a long trip, for sure — whether it's at my parents' or my sister's, we travel 12 hours, door to door – but once we arrive, we can count on a well-stocked kitchen, good nearby markets, and lots of willing and talented cooks to help prepare the meal. Like any family, we have standard dishes we all want to see on the table (Mom's brown and serve wheat germ rolls; whole berry cranberry sauce; an uncomplicated pumpkin pie) and we try new things every year, some of which join the annual menu (Sweet Potatoes Anna) and some of which just don't (lentil and mushroom timbales).
This year, I've been really looking forward to Thanksgiving at my sister's. I took the final issue of Gourmet to bed with me and started dog-earring recipes; we emailed a couple ideas back and forth. And then, she wrote that the oven had broken. It took a while to realize what was wrong; a nicely-browned cake turned out to be all gooey on the bottom, so she just flipped the thing over and baked it the rest of the way. It took a bit more cooking to realize the lower heating element wasn't working. So while my sister put in calls to the repair people, tried to find a replacement part for her twenty-year-old oven, and polled her friends to see who wouldn't be using their ovens on Thanksgiving, I started thinking about an ovenless Thanksgiving: barbecue the bird; make a hearty salad with pickled beets instead of roasted vegetables; bake individual pies in the toaster oven (I still might vote for individual pies: more crust!). My sister started pre-baking batches of Mom's rolls in the toaster oven, and I considered making a vegetarian main dish soup instead of our usual roasted vegetable pot pie.
Today, my sister wrote to say that the oven is fixed. We won't have to walk several blocks to use her friend's (thanks for the offer, though!). We'll be able to enjoy the smells of roasting and baking at home all day while we chop and stir together. We'll only have to clean up one kitchen at the end of the day, not two. It would have been fine, and it would have made a great story. But this will be easier, and will likely also generate some great stories, since being together always does. Come back later next week, and I'll share the final menu (here's last year's) — plus, of course, some recipes.
Happy Thanksgiving! Wishing you all a great meal and wonderful company.