By Lisa
Before I was married, before San Francisco's  Mission district became gentrified and way too hip for me, The Slanted Door on Valencia was someplace I went for lunch.  Lunch was affordable back then–even for a grad student of modest means, and you could get in without a reservation.  I absolutely knew how good I had it.
It was there that I fell in love with Shaking Beef, which my husband & I have since eaten in several restaurants, including one in Paris on our honeymoon. So I was thrilled a few years ago to find this adaptation of Charles Phan's recipe in the New York Times.  It's become a family favorite and I've made it for family dinners as well as for company. Everyone loves it. The kids beg for it if I haven't made it in a while.  There's something about the family-style platter and big bowls of rice and greens that accompany it that make the meal always feel festive.
We haven't taken the kids to the restaurant yet, but we tempt them often with stories about how good it is, and one day, we'll go together. Until then, we have a little bit of Vietnam in our own home.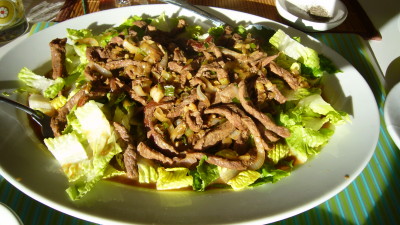 **I should note, that I rarely use filet to make this. It's just too expensive. But I have had terrific results with skirt steak.  Just don't over cook it. If I don't have red leaf lettuce, I've successfully substituted Romaine. And I portion equal amounts of salt and pepper into little dipping bowls, and pass lime wedges at the table so each diner can mix his own dipping sauce. This is a lot more fun for the kids. It also looks pretty.**
SHAKING BEEF
Adapted from Charles Phan
Time: 20 minutes, plus 2 hours' marinating
1 1/2 to 2 pounds beef tenderloin (filet mignon), trimmed of excess fat and cut into 1-inch cubes
2 tablespoons chopped garlic
2 tablespoons sugar
Salt and pepper
5 tablespoons neutral oil, like corn or canola
1/4 cup rice-wine vinegar
1/4 cup rice or white wine
3 tablespoons soy sauce
1 tablespoon fish sauce
1 red onion, peeled and sliced thin
3 scallions, trimmed and cut in 1-inch lengths
2 tablespoons butter
2 bunches watercress, washed and dried, or 1 head red leaf lettuce, washed, dried and separated into leaves
2 limes, cut into wedges.
1. Marinate meat with garlic, half the sugar, 1 teaspoon salt, 1/4 teaspoon pepper and 1 tablespoon oil for about 2 hours. (Refrigerate if your kitchen is very warm.) Meanwhile, combine vinegar, remaining sugar, wine, soy sauce and fish sauce. Taste, and add salt and pepper if necessary. Mix about 1 tablespoon salt and 1 teaspoon pepper in a small bowl.
2. Divide the meat into 2 portions, and do the same with the onion and scallions. Put a wok or a large skillet over maximum heat, and add about 2 tablespoons oil. When the oil smokes, add the meat in one layer. Let it sit until a brown crust forms, and turn to brown the other side. Browning should take less than 5 minutes. Add half the onion and half the scallions, and cook, stirring, about 30 seconds. Add about half the vinegar mixture, and shake pan to release the beef, stirring if necessary. Add half the butter, and shake pan until butter melts. Remove meat, and repeat.
3. Serve beef over watercress or lettuce leaves, passing salt and pepper mixture and lime wedges at the table.