by Lisa
Yes, I did it. And so this post is to show that I do allow absolute junk into my home, that I am not above doing something just to please The Kids, and that I am not Holier Than Thou when it comes to cooking and feeding my kids and others. At least sometimes.
Our school festival was not long ago, and like all other families, we were responsible for providing two baked goods for a Cake Spin Booth.  I was not about to cook something fancy: the goods are due on Friday AM, & my housecleaner comes on Thursday. You can do the time and sanity figuring on that one.   For some time now, Ella and Finn had been begging for Kung Fu Panda Rice Krispie Treats.  I decided now, for the festival, was the time to oblige them.
A confession:  I have never made Rice Krispie Treats in my life. I know, there's something wrong with me.
But they're easy, fast, and no mess. One bowl in the microwave, a cookie sheet, you're done.
So.
As we were walking through Target, on Rice Krispie Treats day, Ella spied a bag of pink, "berry" flavored marshmallows, and immediately asked if we could make the second batch with them. "Fine," I said. The marshmallow were on sale for 98 cents. I kid you not. It was very fine with me. We decided we would make a cute pig to go with the Giant Panda and I purchased some fruit roll ups. Not the nice kind that Caroline makes, but the gross kind, that leave tattoos on your tongue.  (If you don't know what I'm talking about, ask the kid nearest to you right now.)
Po Panda came out just fine.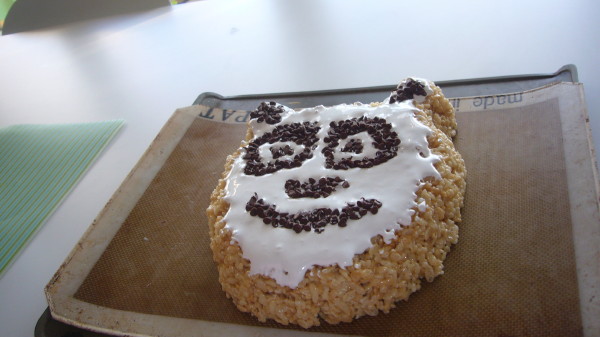 The face is made of Fluff, the details are mini chocolate chips, which I thought an improvement over the "recipe's" suggested use of canned cream frosting. And yes, we still have  jar of Fluff in the pantry. I might just make a sandwich with it one day. Just because.
Then, as I was mixing the lovely, pink concotion, Ella was paging through the New Yorker, and found a picture of a Pink Pokeman and, well, inspiration hit.
I had leftover candy decorating gel from all of Kory's cake art and we made a very quick change in plans.  As we decorated, the kids took the opportunity to ravage the rest of the fruit roll ups and they really, truly thought I was the Best Mom Ever.  Even though, ironically, they didn't get to eat the result.  That honor went to a happy teenage boy, who I saw proudly displaying the results of his winnings the next day in the school gym.