by Caroline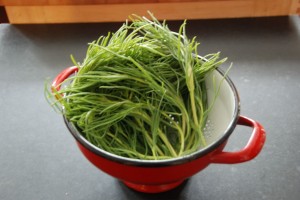 Ever since we found a bunch of agretti in our mystery box, I have been wanting, naturally, to make agretti spaghetti. But somehow the stars aligned toward an Asian treatment first: steamed rice, caramelized golden tofu, and blanched agretti tossed with sesame oil and sesame seeds. The saltiness of the agretti complemented the sweet tofu really nicely, and Ben (who is not the kind of picky eater who disdains greens) ate several servings.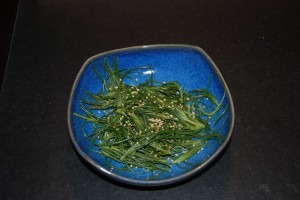 Tonight, then, I had my chance to make the happily rhyming agretti spaghetti. I blanched it for a few minutes (if I'd thought of it, I just would have thrown it in the pot with the pasta for the last 3-4 minutes), then tossed it in the pasta with some cannellini beans, olive oil, and grated cheese: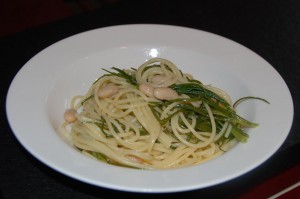 For more information about this crisp, salty green, follow this link;  if you happen to find agretti at your market, there are some more good-looking recipes over at Kitchen Gadget Girl.