by Caroline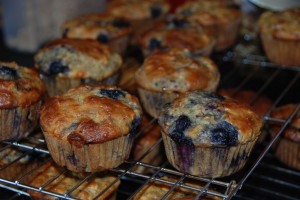 I am not a Sneaky Chef. My brownies are not made with white bean purees, my guacamole contains only avocado, lemon or lime juice, and salt (no steamed pureed spinach, broccoli, or green peas), I use neither cauliflower nor sweet potato in my tomato sauce. I do understand the thinking behind trying to boost the nutrition of certain common foods kids like by adding purees of certain foods kids tend to dislike, but honestly, that kind of deceptive tactic really saddens me. If my kids don't like sweet potatoes, then they're never going to learn to like them by eating them mashed into brownies. I'd rather roast sweet potatoes, bake regular brownies, and give them more carrots and spinach to get them their Vitamin A. So sue me.
But first, make these muffins. They might seem to be slightly sneaky chef-like, because I'm suggesting you replace some of the butter with ground flax seed, but ground flax seed  is not a food you can really eat or learn to love all on its own. It wants to be baked into things, and when it is, it provides a buttery nuttiness (plus lots of folate and minerals) to whatever you've baked. This recipe comes originally from the late, lamented Wondertime, with some revisions (of course) from me; they are the best blueberry muffins I've ever made.
2 c flour
2 t baking powder
1 t baking soda
4 large eggs
16 oz sour cream or yogurt (I use nonfat Greek yogurt, which works beautifully)
10 T butter or 8 T butter and 6 T ground flaxseed
1 3/4 c brown sugar
2 c old-fashioned rolled oats
2 c blueberries (if frozen, do not thaw)
Heat oven to 375.
Line two 12-cup muffin tins with muffin cup liners (you really do need them for this recipe).
In a small bowl, combine the flour, baking powder, baking soda, salt and flax (if using). Set aside.
In a large bowl, beat eggs with sour cream or yogurt until thoroughly combined.
In a small saucepan, melt butter and brown sugar, then cool slightly (about 5 minutes) and stir into egg mixture. Stir in oats. Fold in flour mixture and then gently fold in the berries. Fill muffin cups about 3/4 full.
Bake for 20-25 minutes, until edges are medium brown and tops are firm. If you're using flax, the muffins will brown before they are baked through, so cover with foil after 15 minutes.