The chalkboard pretty much says it all, except Kory forgot to add:  Baked Potato Skins, which had lots of cheese and bacon on them.
It was all homemade, and all really tasty, but probably the most unhealthy meal I've cooked, maybe ever.  True, the kids ate their vegetables first, and I ate most of the potato skins, and Ella ate most of the fried chicken, and Finn feasted on the Pigs in Blankets, and Kory, well, he ate some of everything.  No one ate the potatoes which were there just by virtue of being what was scooped out of the skins. Dessert, they foraged for, and I honestly forget what they found in the pantry.
I'd make it all again, just not all together.  Recipes after the photo.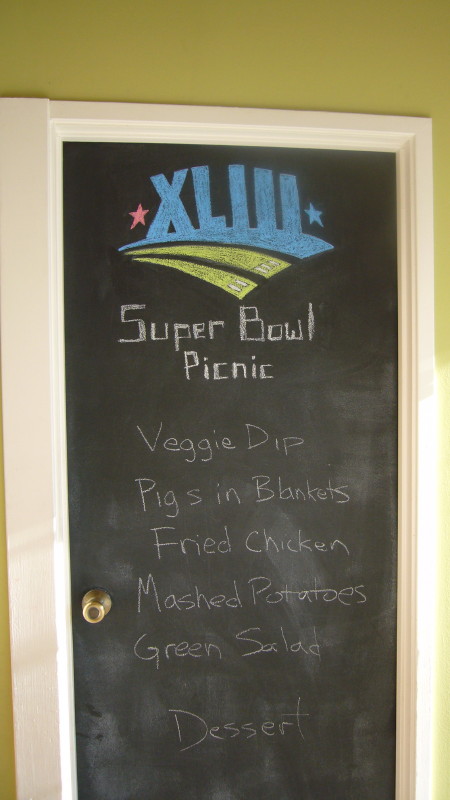 Pigs in Blankets
Hot dogs, cut in half.  If you buy the Niman Ranch or TJ uncured "all natural" varieties, you can feel a little less guilty. If you like a good hot dog, you'll love these brands.
Frozen puff pastry
Pizza cutter. Pastry brush.
Cut the hot dogs in half.  Let the pastry sit out until you can work with it, then flour both sides.  Cut one sheet of pastry in half, and roll out each half a little bit.  Starting at the end closest to you, roll one hot dog snugly in pastry.  Cut the pastry and using the pastry brush slightly wet the edge so it sticks when you fold it up.  Place the finished pig-in-a-blanket carefully on your baking tray.  Continue until all the dogs are wrapped. Bake at 425 degrees until the pastry is golden brown.
These qualify as cute food. Serve them with little pots of ketchup, or mustard, or honey mustard, which you can easily make by mixing a hot mustard with a good honey, to taste (but you'll need more honey than you think).
Fried Chicken
2 cups flour
1 tablespoon salt
black pepper
cayenne pepper, to taste
1 quart buttermilk
Chicken parts. Use what you like, but I find that legs and boneless thighs and cut up boneless breasts are the best.
Peanut oil
1. Soak the chicken overnight in the buttermilk.
2.  The day of cooking, in a large paper bag, mix flour. salt, black pepper, cayenne. Give it a good shake.
3.  Place the chicken, a few pieces at a time, into the flour and give it a few good shakes so the chicken is thoroughly coated.
4. Heat the oil to 350 degrees F. It's really, really important that the oil be neither too hot nor too cold. Get an instant read thermometer.  Technically, I pan fry my chicken, meaning the oil just barely covers the chicken.  But I do use a deep pasta pot instead of a pan to minimize splatter and clean up mess.
5. Carefully place the chicken in the pan and be very careful not to crowd the chicken.
6.   As the chicken starts to brown, turn it over so it browns evenly on both sides.  The chicken will be done when it reaches a minimum internal temperature of 165 degrees, but it is also true that you will hear a change in how the oil sounds when the chicken is done.  This part is a little artful and might take some time.  I have had very, very bad luck trying to fry thighs and breasts that are not deboned, so I don't recommend them.
7. Continue to fry in batches, placing the cooked chicken on racks or a paper bag to drain.