by Lisa
This recipe is easily one of my favorite recipes  for spaghetti.  It's quick, simple, and can be made with what you likely have in your pantry on any given day of the year.   The blend of garlic, anchovies, a good olive oil, and tomato paste creates a rich, garlicky, slightly nutty sauce that slicks the pasta in exactly the right way.
The kids adore it, and you can use it as good, meatless main course any night of the week, no matter how little time you have, or it can be served in small portions as a first course for a dinner party or for more formal family dinner (if you are so lucky as to have those in your house).
I believe I found the original recipe in a magazine many years ago, but it's been tampered with to suit our family's preferences.  You should tamper, too.
First, mince 1-3 cloves of garlic, depending on your taste, and sautee them in a generous 1/4 cup of olive oil over medium high heat with 2-4 anchovies . If you really hate anchovies, don't give up on this recipe. They add depth and richness to the sauce. Rather than leave them out, just add one or two. But be sure to use the good ones, packaged in a glass jar, not a tin.  The price is worth it.
Serve with fresh grated parmesan, or its more affordable but equally good cousin, Grana Padano, a side of prosciutto, your seasonal produce…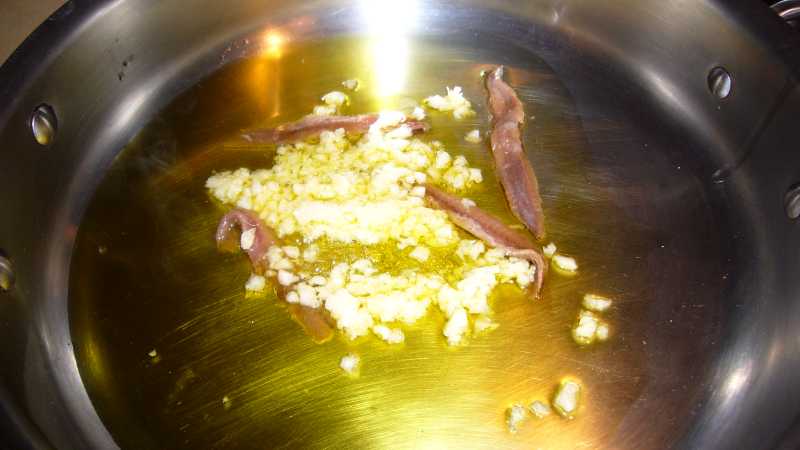 When the anchovies have dissolved and the garlic is slightly golden, add a small can of tomato paste.
Stir to bind up the garlic in the tomato paste (if you don't it will burn as the sauce cooks),  add a bit of salt and a good sprinkling of whatever herb you like or have on hand.  We use a lot of fresh, dried oregano, because we have a terrific bush in our backyard. But I've used fresh dried rosemary, or fresh basil, parsley–whatever mix or blend or solitary herb you like.
Turn the heat to low, and let the sauce cook, and cook, and cook, for about twenty minutes or so, until the raw paste has cooked through and the whole thing turns into a lovely, pasty mess. There will be some separation of oil and tomato, and the oil will take on a lovely reddish, orange hue. This is good (to eat, but not on your clothes).   If it looks too dry, you can add oil along the way.
Toss this sauce over your cooked pasta. This recipe will make enough to dress 1 lb of pasta, but it actually freezes well if you want to use just part of the recipe.  I'm a big believer in the right pasta for the sauce, so I wouldn't use anything other than a good spaghetti for this recipe. Also: don't use too much.  The sauce should just bind, not soak, the spaghetti.
Serve with a grating of parmesan or its more affordable, but equally good cousin, Grana Padano, a side of prosciutto, your seasonal greens…