by Caroline
aka, best creamless cream of tomato soup ever.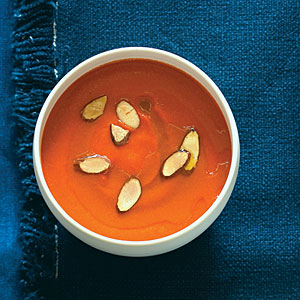 We're having an unusually dry winter in San Francisco, and although I love the sunny days, I worry about the deepening drought. It affects my cooking, too, since a drier, sunnier winter also means I'm doing less roasting and soup-making. But today was a good, cold, wintery day and it was time to try a new soup recipe, which I've adapted from Sunset magazine (an excellent source for creative recipes, by the way). The original recipe is a play on cream of tomato soup, so calls for dry milk powder. I left it out (in deference to my vegan niece), and I can't say we missed it — the soup is incredibly creamy and delicious. Even said niece (who doesn't care for onions or red peppers) loved the soup. We served it with a tossed green salad and some crusty bread for a perfect winter supper.
2 T olive oil
2 medium onions, halved and thinly sliced
1/2 t salt
6 garlic cloves, minced
1/2 t paprika (we have some nice smoked paprika, but any will do)
1/2 cup hulled red lentils, picked over (sometimes a pebble or two will sneak in with the lentils) and rinsed
4 large roasted red peppers
1 can (28 oz.) diced tomatoes
about 1 1/3 cups broth or water
1 T red-wine vinegar
1/4 cup sliced almonds, toasted (if you happen to have Marcona almonds, so much the better)
Warm olive oil in a large pot over medium-high heat. Add onions and salt and stir to combine. Cover, reduce heat to medium, and cook, stirring occasionally, until onions are very soft, 5 to 10 minutes; reduce heat, if necessary, to keep onions from browning.
Add garlic and cook, uncovered, until soft, about 3 minutes. Stir in paprika and cook another minute. Add lentils, peppers, tomatoes, and broth. Bring to a boil, then reduce heat to maintain a steady simmer, cover, and cook until lentils are extremely soft, about 30 minutes.
Puree soup in a blender in 2-3 batches. Return to the soup pot and add vinegar and salt to taste; add a little more broth if soup seems too thick.
Serve topped with a sprinkle of almonds.