posted by Caroline
At home, I am a miser with berries. I haven't quite gotten over the sticker shock when I pick up a basket of organic berries. But I fork over the money, thinking of the farmers who will use the income to pay their employees a decent wage, feed their children, buy health insurance.
Still, I can't help but want to dole out the fruit in small doses, save it for special occasions, offer an inexpensive apple instead. Much as I adore summer fruit, much as I hate to see the glorious variety of strawberries, blueberries, raspberries,  ollallaberries, nectarines, apricots, peaches, plums, pluots, aprium, and plumcots give way to four straight months of apples and pears, much as I regret all the torn-out magazine recipes that I didn't get a chance to try, the frugal New Englander in me is honestly a tiny little bit relieved when the summer bounty is past and we're back to apples and pears. Pears and apples.
Which is why every summer I make a point of bringing the boys to visit my parents' home in the Connecticut woods, where they can eat all the berries they like. This year we arrived in late August, between the two raspberry crops, but there were a couple quarts in the freezer which the boys ate, thawed, on their breakfast cereal. Ben picked both blueberries, paraphrasing Blueberries for Sal ("Kerplink! Kerplank! Kerplunk!") as he did, and blackberries, toughing out the sharp thorns longer than I would have expected, and then proudly showed off his harvest to everyone in the house.



Both boys ate little peaches, some no more than two or three bites, the speckled skin hiding a perfect sweet-tart balance.



And my dad peeled and cut up about forty of them for me to bake into a peach and blackberry crisp: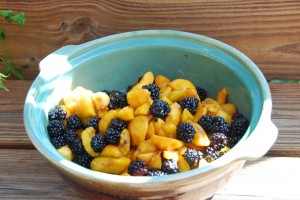 The boys gathered windfall apples and admired the last small green pears of the season. They tried gooseberries (not a hit), and if we'd stayed one more day, I would have thawed some of July's strawberries and rhubarb for a pie.
Of course, the price of these fruits is harder to figure. First there is time. My dad planted the orchard before there was a house on this property; I was a kid when I helped him line up the trees, unable to share his vision of an orchard through the tangled brush, but happy enough to play along. The berries have been planted more recently, but some only this year matured enough to produce a decent harvest. And then there is care. The blueberries (transplants from a patch near my late grandfather's house) need to be netted from the birds, the trees pruned and fenced to protect them from deer, the more delicate plants mulched for winter. And then there is the harvesting, and the processing — freezing some whole, some hulled, others peeled and pitted.
There is no way to pay for all this bounty, except to say thank you, and eat, and say thank you again.
And so when the boys crowded into the kitchen asking for a snack, I'd say, "How about some berries?" and fill their bowls.