posted by Caroline
In Paris, we rented an apartment, went to the market and fixed nearly all our own meals. But we wanted to take the kids out for a meal, just once, pretty much just to say we did.
We carried several guidebooks that included sections on kid-friendly restaurants, but too often kid-friendly meant a chain like Le Hippo, which has a kid's menu offering (for about eight euros) a choice between steak, burger, ribs, chicken nuggets or fish filet, plus drink and dessert. Not bad, but not so great for vegetarian kids. (The one exception to the kid friendly = fast food thinking was in Karen Uhlmann's wonderful Paris for Kids, where the Restaurant section begins: "I use my museum method for taking children to dinner in Paris (one museum, then one park). One pasta night for you; one bistro night for me." I like the way this woman thinks! Maybe when the kids are older we'll manage this, too.)
Although our kids actually handle restaurants pretty well, we were a little worried about the pace of the typical Parisian bistro meal, the need to order courses, the inability to make substitutions. So we went for Italian. In fact, we found pretty much the Parisian equivalent of our local Pasta Pomodoro. The boys ordered fusili with pesto, Tony had a pizza, I ate a terrific salade nicoise, and we all shared a couple bowls of excellent chocolate ice cream for dessert. It was quick, it was tasty. Everybody left happily.
The next night we gave ourselves a break from teaching anybody how to eat, and left the boys with my good friend Susannah so that Tony and I could go out on our own. We went for Italian, again, but this time a small and cozy place with tables far too small for our standard restaurant accessories of view master and coloring books. We walked past the beautiful seafood and antipasto bar on the way in:
And started with an antipasto plate and a rocket salad:
(The zucchini on the antipasto plate was a revelation: thin discs which seemed to have been dried slightly before marinating, to give it a fabulous chewy texture.) Then we moved on to a black truffle risotto and pasta with scallops. We had cocktails to start, wine with dinner, and lingered; we didn't need to remind anyone to sit up, or not stick a fork in your hair, or to try three more bites because you're three… It was peaceful and quiet, and the food was delicious, too.
Our next big restaurant meal was in the south of France, where after almost a week of meals cooked for us personally by Charlie the Chef (much more on this to come), we — the 4 of us, my parents, my siblings and their partners, my niece and nephew — all went out to a local auberge to eat.
We prepared for this meal as we'd prepared for our Eiffel Tower trip, making sure the boys were well-rested and fed before we headed out, for although by now our boys were thoroughly on French meal time (ie, dinner at 8), we still hadn't asked them to sit through several courses. And in fact, we didn't even arrive at the restaurant until 8, ordered half an hour later (yes, I was checking my watch), and the food didn't come for thirty minutes after that. So the boys colored, and looked at view master discs, and Tony and I took turns taking them out for walks, which — given the scenery–was actually quite pleasant: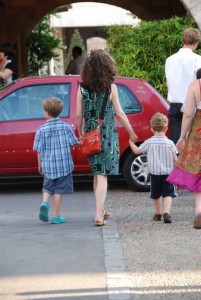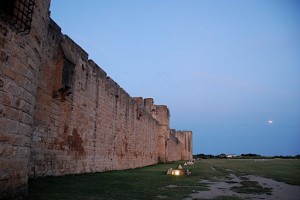 When our meals arrived, we were delighted: scallops and vegetables for me:
a beautiful vegetable plate for Tony: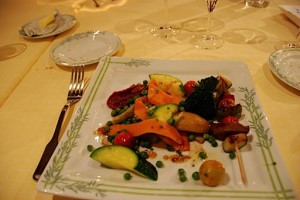 And pasta for the boys. It had only been a week since they'd seen the stuff, but they fell on it like… well, like picky eaters who've been denied plain food for a week. I didn't take a picture of their plates, but scribbled on the side of my menu Ben's response: "I am going to delect this pasta!" Eli scooped it up into his mouth by the handful. I wasn't about to spoil his happy reunion with comfort food by insisting on a fork.
There was dessert, and there was wine, and maybe there was coffee, too, but I really don't remember, I was so distracted by my growing sense that yes, they would make it, we would make it, and two and a half hours after we sat down, we were heading home again, tired, contented, and well-fed after our family dinner out.